What is a Silver Beaver?
The Silver Beaver Award was introduced in 1931 and is a council level distinguished service award of the Boy Scouts of America. Recipients of this award are registered Scouters who have made an impact on the lives of youth through service given to the council--they can then be referred to as a "Silver Beaver," and can join the council Silver Beaver Colony.
To prevent embarrassment, the candidate should not be notified of this nomination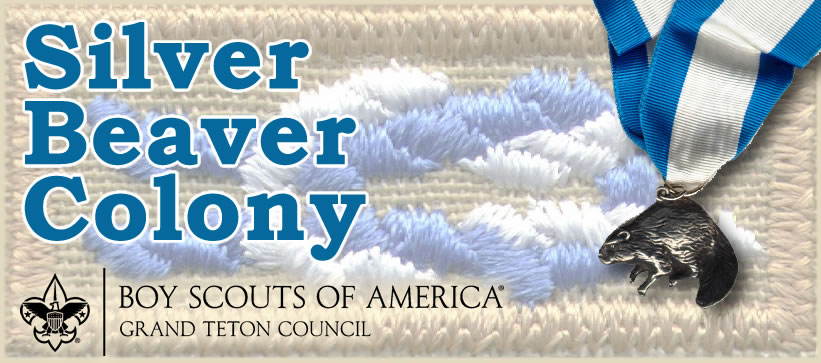 Ongoing Projects throughout the Council
Contact the BSA service centers 208-522-5155 or 208-233-4600 for information about ongoing projects throughout the council. Here are a few:
-Little Lemhi Scout Camp - Chief Tendoy cabin
-Idaho Falls Service Center -maintenance projects
-Island Park Scout Camp - Central dining kitchen, Fire bowl seating
-Krupp Scout Hollow-Cabins & clean up

For Silver Beaver questions, contact current president by leaving a message at 208-522-5155 - Or E-Mail at sbcolony2gtc@gmail.com
Silver Beaver Dues and Donations



For those interested in paying their Colony dues, making donations, and purchasing Silver Beaver Patches you can now do so at the above link!